Friday, October 25, 2013
3:00 AM
Happy Friday!
I am so excited to be sharing my project with you today. What are the different ways you have used vellum in your cardmaking? In the past, I have simply stamped on it. In today's tutorial, I will show you how you can use vellum in a more creative way…dry embossing!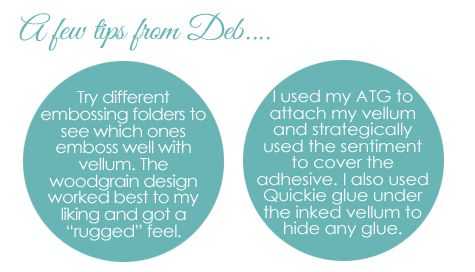 DeNami Design Products
Other Products
variety of inks
vellum
scissors
If you have missed any of the previous Photo Tutorials, you can find them all listed HERE. From unique project and card ideas to techniques, this is a great source for expanding your crafting horizons!
That's all for me today. I hope you find some time to create and with emboss vellum.
Categories