Tuesday, January 7, 2014
3:00 AM
Hello and welcome to Day 2 of the Spring/ Summer 2014 Sneak Peeks!
For those just joining in, this week we are releasing a new release and the days leading up to the big day will bring along sneak peeks, inspiration and giveaways. If you missed the
Woodland Friends Sneak Peek
, be sure to hop on over and take a look.
In today's sneak peek, we are featuring several garden images from the new release and I have
Pattie Goldman, Wendy Elliot
and
Lisa Elton
bringing us some stunning inspiration.
joining us.
*Be sure to visit each of their blogs for an additional sneak peek project AND a chance to win a gift certificate to the DeNami website!
Pattie Goldman
Stamps used: Hope Blooms, Dahlia
Wendy Elliot
Wendy Elliot
Lisa Elton
Lisa Elton
Stamps used:
Things Will Get Better, Summer Flower Accents set
Lisa Elton
Stamps used:
Hope Blooms, Summer Leaves set, Summer Flower Accents set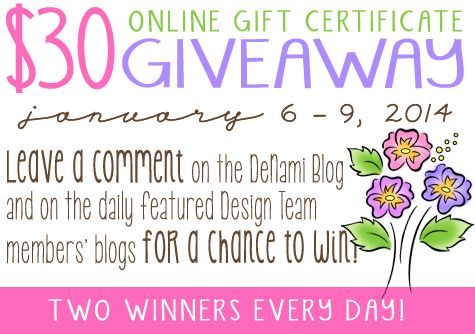 Everyone loves a giveaway and it's even better when you can get in multiple entries! Below are the six different ways you can enter.

If you have entered all of the possible ways, this means you left 6 different comments on this post.
The deadline to enter is January 9th at 9:00am PST. I will announce the winners here on the blog later that day.
Categories