Monday, January 6, 2014
3:00 AM
Hello and Happy New Year!
As you can tell from the title of the post, it's sneak peek time for the Spring/ Summer 2014 release! Despite the craziness that the holiday season brings, the design team has been working on creating new projects to share these next few days. What better way to start the year than with new designs, creativity and giveaways?!
These next couple of days, we'll be showcasing samples from the design team and like we have done in the past, each day will have a different theme.
Today I have
Dana Seymour, Deb Wabbe
and
Lisa Petrella
all bringing us their adorable Woodland Friends creations. I have to admit, these stamps are my favorites from the new release and I have a feeling you'll love them just as much as I do.
*Be sure to visit each of their blogs for an additional sneak peek project AND a chance to win a gift certificate to the DeNami website!
Dana Seymour
Stamps used: Hello Foxy, Little Fox, Woodland Friends
Dana Seymour
Stamps used: Woodland Mushrooms, Woodland Gnome, Woodland Logs set

Dana Seymour
Deb Wabbe
Deb Wabbe
Stamps used: Little Fox, Hellow Foxy, Woodland Logs set

Lisa Petrella
Lisa Petrella
Be sure to stop by the DT blogs for even more inspiration! Each of them have an extra card or two, not shown here, on their blogs using these stamps that you definitely won't want to miss!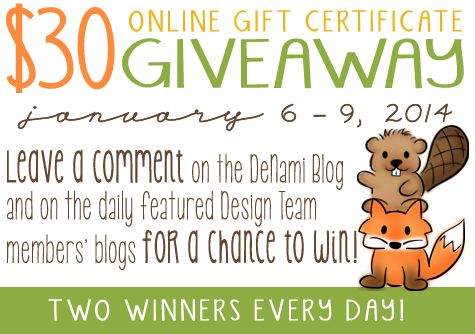 Everyone loves a giveaway and it's even better when you can get in multiple entries! Below are the six different ways you can enter.

If you have entered all of the possible ways, this means you left 6 different comments on this post.
The deadline to enter is January 9th at 9:00am PST. I will announce the winners here on the blog later that day.
If you've been eying some older DeNami stamps/ products, you may want to add them to your shopping carts now. That way, once the new items release, you just need to add the new things and you can checkout! This is a great way to ensure you don't forget anything!
I will be back tomorrow with three of the design team gals for our Summer Garden Sneak Peek. See you then!
Categories