Thursday, January 9, 2014
3:00 AM
Yippee, the day has come to do the FULL REVEAL of the Spring/ Summer 2014 collection! Over the last three days, we have brought you several sneak peeks with a glimpse at some of the new designs. However, even with all of those sneak peeks, there are still some stamps that haven't been showcased!
Like we do with every release, we are offering you a free download of the NEW supplement
.
If you have our catalog, you can print this off and stick it with all of your DeNami papers.
(Click the graphic to download the PDF)
Tip: After printing your supplement, highlight the items you'd like. This is a great way to easily see which stamps you want to purchase.
With the click of ONE button, you can get ALL of the new stamps and sets.
All 39 NEW wood mounted stamps, along with the 4 new cling sets at a 10% discount, when you purchase this bundle!

Qualifies for FREE shipping within the US
Click here to purchase the package deal!
Since the new release is here, we wanted to make sure you had new checklists! This is the perfect way to keep track of what DeNami stamps you currently own, or the ones that are on your growing wish list!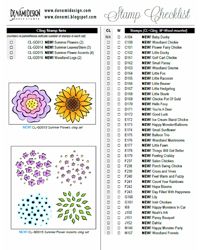 (Click the graphic to download the PDF)
For all you "chickaholics" out there, we have updated our Chickie Checklist (or "Chick-list") just for you! You can print just the first page (with the new chickies) or all of them and see just how many you have, or circle all the ones you want to have!
(Click the graphic to download the PDF)
Categories